Digital Tachograph Product Categories
Featured Products
All prices subject to VAT at the current rate
View all Tacho products
Digital Tachograph Rolls
Buy your TACHO2 tachograph supplies from the very first company in the UK to gain the approval to manufacture digital tachograph rolls.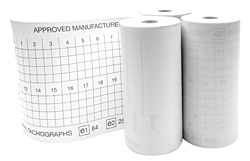 Our TACHO2 rolls are type approved to fit the following machines:-
ACTIA: e2 22, e2 25, e2 29, e2 30
CONTINENTAL AUTOMOTIVE GmbH: e1 84
PARS AR-GE LTD: e37 0004
Stoneridge Electronics AB: e5 0002
INTELLIC GmbH: e1 200, e1 222
ASELSAN: e37 0005, e37 0007
Our type approval number is e1 0010
CONTACT sales@tacho2.com to see our Type Approval Certificate 
Superior Quality Top Coated Thermal Fully Approved Paper
57mm wide x 8 metres long with 8mm coreless centre
Individually wrapped and boxed in 3's
Pre-printed reverse to allow manual data input
Tayrol also supplies a large selection of TACHOGRAPH ANALOGUE CHARTS, CHART ENVELOPES, DEFECT BOOKS, TRANSPORT COMPLIANCE STATIONERY, DRIVERS WALLETS ETC.
Buy direct from TACHO2 / Tayrol the experts in manufacturing digital tachograph rolls with the friendliest sales team!